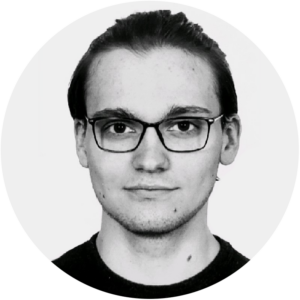 Hi, my name is Ivo Max Müllner, and I am a Software Engineer (M. Sc.) living in Nuremberg.
I started programming in Java in 2012 during 10th grade in school and have been doing since then, with picking up more languages, experience and knowledge along the way, always looking to learn more and getting better at it. Currently, I am using C#, Java, Swift and Python with some additional PHP in my projects and learning C++ in my free time. I like the way I can use code to transfer ideas from my mind into reality, solving problems and creating tools me and others actually can use. Also, I have knowledge in developing for Android and web with HTML, CSS, JS/Typescript.
During my studies I met a lot of different people, and I highly enjoy working in teams with them. I'm always fascinated by the outcome of combining different skills and ideas into a single project, which, in my opinion, is nearly nowhere expressed as well as in making a video game. Artists, Game Designers, Programmers, Composers, etc. work together in a dynamic system, doing their best in their own field of work to produce a single product. If that is not fascinating, I don't know what is!
Since my childhood I always have had a passion for video games, in various kind of aspects. I enjoy analyzing and learning the gameplay systems, exploring the looks and content of the world, getting engaged in the characters and story and of course pay extra attention to the music.
I have been playing piano since 2nd grade and picked up the guitar along the way additionally. I focused on playing pieces from movies, video games, and TV-shows that I like, constantly looking out for virtuous arrangements or trying to make my own. Over the years, I also developed a deeper interest for music theory.
Curriculum Vitae (in German): Click here! 
Curriculum Vitae (in English): Click here! 
LinkedIn: Click here!
Contact me: ivo.muellner@web.de
Familiar Programs: